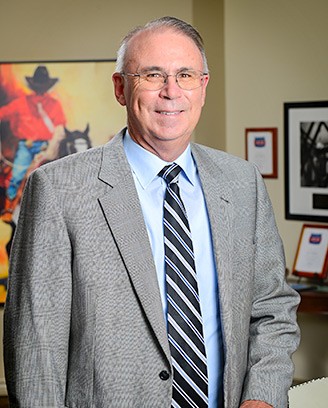 Joseph Dandurand
Joe Dandurand served 21 years as Circuit Judge in Cass and Johnson Counties, 15 years as Presiding Judge. He was then elevated by gubernatorial appointment to a judgeship on the Missouri Court of Appeals-Western District. Joe retired from the bench to accept an appointment as Missouri's Chief Deputy Attorney General from Attorney General Chris Koster, serving in that position for 8 years. Throughout his legal career with the Courts and the State of Missouri he engaged in several practice areas including civil litigation defense work, domestic disputes, employment law, personal injury litigation, consumer protection law, medical malpractice, and criminal trials.
Joe has twice sat by invitation of the Chief Justice as a replacement judge on the Missouri Supreme Court.
His wide-ranging judicial experience as well as his diverse work in the Attorney General's office and his years as a general practitioner, have brought a wealth of knowledge to his mediation practice. Joe is a member of the American Arbitration Association's Consumer Panel and received training from the University of Missouri School of Law Center for Dispute Resolution.
Central Missouri State University, B.S Business Administration

University of Missouri – Kansas City, School of Law – Juris Doctor
Missouri Court Appointed Special Advocate Juvenile Judge of the Year

Meritorious Service Award 2016 – National Association of Attorneys General

Missouri Trial Judges Association, past president

University of Central Missouri S.G.A. Excellence in Governance Award

2021 University of Central Missouri Distinguished Alumni Award

2021 Missouri Lawyer's Weekly ICON Award

Served as Special Judge on the Missouri Supreme Court

CMSU Distinguished Military Graduate Award
Supreme Court Judicial Education Committee, past chair

Supreme Court Board of Court Reporter Examiners; past chair

Missouri Trial Judges Association; past president

Missouri Commission for Judicial Branch Education

Missouri Presiding Judge Executive committee

National Association of Attorneys General Training Institute

National Association of Attorneys General Strategic Planning Committee
Schedule Your Appointment
To reserve an appointment online, please click your preferred available date. Our staff will contact you on receipt of your Appointment Request form.