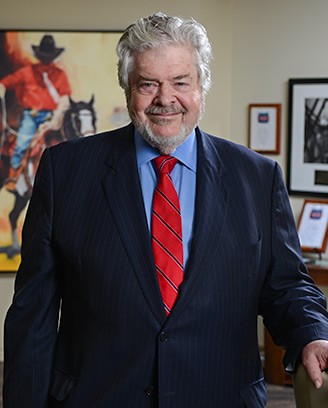 John Phillips
John Phillips joined forces with former judges Jay Daugherty and Bob Schieber at the end of 2018, after leaving his active trial practice of over 40 years with the Husch Blackwell law firm.
His practice grew from general litigation to include commercial, class actions, employment and health care including both hospitals and medical malpractice defense work. In the latter part of his litigation career, he became well known as one of the most prominent employment litigators in the Midwest.
John has conducted thousands of mediations. He received early training as a Mediator and became nationally recognized for his mediation skills and broad subject matter knowledge while maintaining an active trial docket. He became a Fellow in the American College of Trial Lawyers in 2003.
He became an active member of the national ABA Section of Dispute Resolution, serving on the Council and as Chair, in 2012-13, leading the ABA Mediation Conference in Vietnam and Thailand in 2014. He also has been a Distinguished Fellow and Board member of both the International Academy of Mediators and the College of Commercial Arbitrators.
University of Missouri-Columbia School of Law, cum laude, Juris Doctor, 1971

Order of the Coif, Honorary Barrister Missouri Law Review, Editor-in-Chief Peking University Law School Summer Program, University of Missouri-Kansas City School of Law, 2000

Oxford Summer Law Program, University of Missouri-Kansas City School of Law, 1988

University of Missouri-Columbia, B.S. Business/Administration, cum laude, 1968
International Academy of Mediators

Distinguished Fellow and Board Member College of Commercial Arbitrators Fellow and former Board Member American College of Trial Lawyers

American College of Labor and Employment Lawyers The Best Lawyers In America, Arbitration, Employment Law-Management, Labor Law-Management, Litigation-Labor & Employment, Mediation, 1993-present

The Best Lawyers In America, Kansas City, Mo., Mediation Lawyer of the Year, 2012

Chambers USA, Labor & Employment Law, 2003-present

Kansas City Business Journal, Best of the Bar Missouri & Kansas Super Lawyers, Employment & Labor Law, Mediation, Arbitration, YEAR?

International Relations Council, Mike Wood Presidential Citation of Merit, 2010

University of Missouri Board of Curators, 2012-present

Saint Luke's Hospital of Kansas City and System, Board and Board Secretary, 2000-present

Benchmark Litigation, Local Litigation Star, 2010-2012
AAA Complex Commercial and Employment Law Arbitration/Mediation Panels, 1990-present

American Bar Association, Asia-Pacific Mediation Leadership Conference, Co-chair, Vietnam & Thailand, 2013

American Bar Association, Dispute Resolution Section, 2000-present; Chair, 2012-2013

CPR/CCPIT U.S.-China Mediation Panel, 2006-present

CPR National Panel of Neutrals, 2000-present

Cy Pres Committee on Funding for Missouri Legal Services Programs

Dalkon Shield Arbitration Panel, 1992-2004

Global Kansas City Commission, 2006-2010

International Relations Council, Board of Directors, 2002-2010

Chinese People's Friendship Society, Vice-Chair, 2002-presentEdgar Snow Memorial Foundation, Vice-Chair, 2001-present

Kansas City Chinese American Association, 2010-present

Kansas City Labor-Management Council, Executive Board, 1996-2018

Kansas City Metropolitan Bar Association, Labor Law Committee, 1980-present; Managing Partners Committee, Chair, 1998-2002

ADR Committee, Chair, 2002

Merrill Lynch Sex Discrimination Claim Resolution Process, 2004-2007

Missouri 16th Judicial Circuit Case Management Committee, 2004-2009

The Missouri Bar, Labor and Employment Committee; Alternative Dispute Resolution Committee, 1986-present

Missouri Supreme Court Automation Committee, 1998-2002

Missouri Supreme Court Commission on Alternative Dispute Resolution, 2008-2016

National Association of Distinguished Neutrals, Charter Member, 2010-present

Quintiles Institutional Review Board, 1990-2009

Society for Human Resource Management, Former State Council Legislative Affairs Director

YEAR?

University of Missouri-Kansas City Bloch School of Business, Human Resources Advisory Council, 1996-2011

U.S. District Court Early Assessment Program, Mediation and Arbitration Panels, 1992-present

U.S. District Court, Western District of Missouri, Civil Justice Advisory Committee, 1992-1994
Schedule Your Appointment
To reserve an appointment online, please click your preferred available date. Our staff will contact you on receipt of your Appointment Request form.